Romantic Hotels in Colorado
Arrowhead Rooms and Suites 
Arrowhead Manor had one thing in mind when it was built, romance! We think it's all about the love! One step inside and you will see why we are one of the most romantic bed and breakfasts or hotels in Colorado. All of our rooms and suites offer more amenities for less than most B&B's or hotels out there! Our guest rooms offer flat screen TV's with DVD players and surround sound, bed massage units, mini fridges, coffee makers, zoned heat/AC, phones with private voice-mail, WiFi, Hundreds of DVD's to watch with free popcorn, bath salts, fireplaces, Jacuzzi tubs, Travertine stone baths, and more. Guest rooms are approximately 240 square feet. The suites offer the same and more amenities but everything is a little bigger. Big mountain views, bigger TV's, bigger Jacuzzi tubs or private hot tubs, bigger sitting areas. Suites are 300-470 square feet. If you think a suite is a little out of your price range, we recommend staying in, bringing your own wine, and ordering a pizza to offset the cost of going out to dinner. This way you can have more time to enjoy the amenities we have to offer and really relax while not worrying about driving anywhere. So if you're looking for a luxury bed and breakfast or romantic hotels in Colorado, check out the Arrowhead Manor.
---
Amenities
Rooms & Suites have most or all of the following amenities and features, MANY of which you cannot find anywhere else! 
 Mountain views

 Mini fridge

 Larger Flat screen TVs

 DVD player with surround sound Stereo System

 Coffee maker with regular and decaf coffee and tea

 Alarm clock

 Phone with free local calls and voice-mail

 Individually controlled thermostats

 Wi-Fi

 Free All You Can Eat Popcorn

 Free movie rentals

 Top of the Line Bedding and Beds 

 Plush towels

 Suites have optional robes

 Bathroom toiletry amenities (shampoo, conditioner, soap, etc.)

 Private In room bathroom

 Bed Massage units


 Jetted Jacuzzi tubs Suites have larger ones

 Free nearby parking for small to large vehicles (larger vehicles or trailers should call first!) 

 Onsite friendly staff available 24/7/365, even for middle of the night emergencies, but providing assistance within seconds to minutes for most things, unlike the minutes to hours at most hotels, inns or BnBs

Innkeepers always just a phone call away 24/7/365 even for middle of the night emergencies

 Hair dryer

 Travertine, slate, and/or marble bathrooms

 Gas or electric fireplaces

 All non-smoking rooms with designated smoking areas super close by, including on:

 Private decks/patios/grassy patios/Semi private decks on some rooms

 Private hot tubs on Private Decks

 Daily room freshening (unless your Do Not Disturb Placard is on your door) 

 Dark alder trim
Deluxe guest room/Morrison room (Located on the upper floor)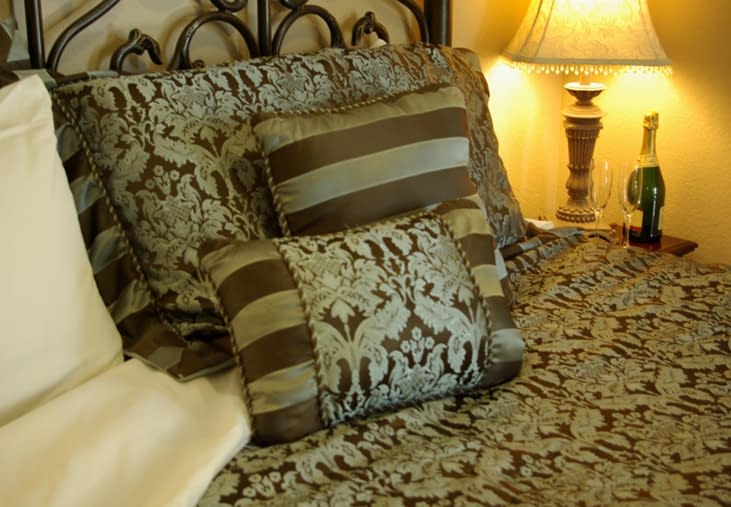 When staying in a guest room with us, you'll find yourself surrounded by luxury, intimacy, ambiance, and if you're looking for it, a lot of romance! Our guest room offers flat screen TV and stereo surround sound home theater systems overlooking each bed, as well as other in-room amenities found only at Arrowhead, including mini fridges, additional in room coffee maker (in addition to onsite coffee/cappuccino machine) and of course, breakfast coffee, and more.  See above.  You'll find private in room bathroom with jetted tub in your guest room, custom bathroom vanity, or pedestal sink, and beautiful natural stone. A guest room is pretty much just a scaled down smaller version of our Suites. While the Suites are best for an Unforgettable stay, Guest rooms are fine for that too. Our Suites and even our Guest rooms, often spark a whole lot of new or renewed love between lovers. So much so that many people either propose here, or decide to elope here, last minute. Guest rooms are also great for weary or business travelers or those other types of guests who have are not here for romance, such as those visiting family/friends in the area, or attending an event, wedding, concert, etc. Either way even the busiest travelers will love the building, and more so the rates. So enjoy what Arrowhead Manor is known for-a whole lot more for less and a unique and memorable place that one won't soon forget! 
Regular rate $339.99   From as low as $129.99*!
One of our bathrooms does have a shorter shower ceiling. Most people (even 6 foot three tall people) haven't been bothered by it all. Even through thousands who've stayed in that room. However, if you think anyone in your group might be, please let us know so we can try to arrange a different room for you!
King's Quarters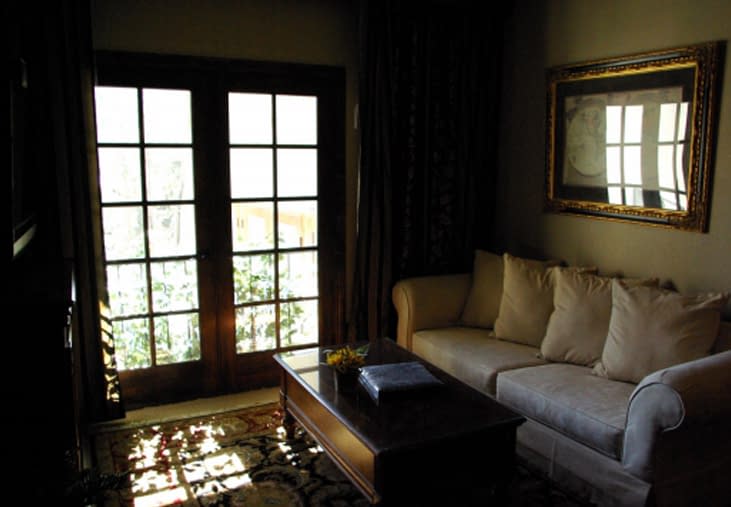 (1 King bed, sleeps from 1 to 4 ASK!)
Located on the lower level,  the King's Quarters can only be described as "fit for a king (or Queen) "! You'll love the bathroom with a TV next to the spacious jacuzzi tub.
Regular Rate $509.99  From as low as $239.99*!
(There is also a Sofa Bed available for extra Guests, for an extra fee*!)
 Master Suite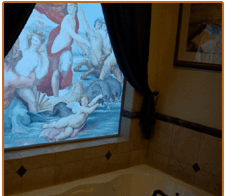 Master Suite page
(King size bed)
The Master Suite is the only suite located on the first floor. With a walk-in closet, this suite is perfect for a beautiful bride. You'll love the double headed shower and the renaissance art on the glass next to the jacuzzi! 
Regular Rate $514.99    From as low as $249.99*!
 Lion's Den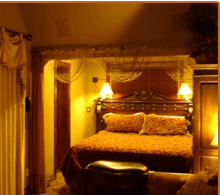 (King size bed)
The Lion's Den is our "jungle" room of love and romance. Located on the second floor, the views from this private deck with hot tub are truly spectacular!
Regular Rate $519.99  From as low as $259.99*!
Evergreen Suite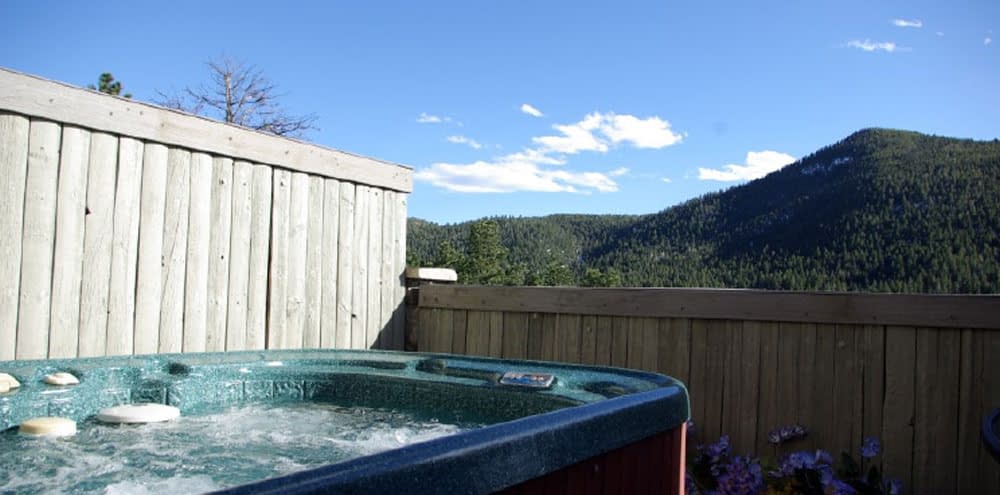 (Queen size bed and the option to sleep up to 4 people (must ask ahead of time) with another queen size bed in the loft, and a sofa bed-said extra beds are not made in advance for most check-ins. If you have other people who'll be joining you please, you must let us know ahead of time so we can charge you the least amount possible to make the bed, rather than having someone make it last minute for you, that night.
The Evergreen Suite is one of our most popular suites. Located on the second floor, the Evergreen Suite has some of the most breathtaking, panoramic views which can be enjoyed from your room, and also from your hot tub on your own private balcony!
Regular Rate $524.99   From as low as $269.99*!
Or, rent our Meeting and/or Event Space, or all of the above! There's NO where better than Arrowhead Manor Bed and Breakfast, or Castle Colorado for ANY event, meeting, wedding, class, seminar, etc.
ALL ROOMS AND SUITES ARE DOUBLE OCCUPANCY RATES, EXTRA GUESTS, INCLUDING CHILDREN, MUST BE PRE-APPROVED AND ARE AN EXTRA CHARGE-PLEASE ASK!
** Unless otherwise agreed by management of Arrowhead, discounts, and rates are subject to the following; 
Your Confirmation will reflect any and all discounts as they are agreed to by Management and your party.  From rates/as low as rates listed by Hotels/Inns/BnBs describe the lowest rates that Hotel/Inn/BNB might be currently offering, based on certain factors, restrictions, availability, dates of stay, dates of booking, methods of booking, advance or last minute notice, etc. All rates and all discounts are subject to certain conditions, restrictions, and blackout dates and cannot be combined with other discounts, special offers, gift certificates, etc. All rates, discounts, specials, gift certificates, coupons, rewards, MUST be mentioned and agreed at the onset of the initial booking, BEFORE special or reduced pricing, coupons, or other discounts or adjustments are applied and cannot be applied, added or increased, after that initial pricing has been given, or after the initial booking phone call or initial internet submission except with express management approval. All prices, rates, packages, specials, coupons, and discounts are subject to terms, conditions, restrictions, availability, blackout dates, etc.. are subject to change without notice at any time and are subject to Management approval. Discounts given only apply for the package(s) or room(s) selected, at that time, of booking, and may not apply toward add-ons, upgrades, or outside vendor services or added or reduced dates of stay. Changes and discounts or specials may also not be available if any changes or alterations are made to the booking after the initial pricing. We do reserve the right to refuse any misprinted pricing, and/or any pricing or offers made at any other website than ours. Reservations made with rate reductions, discounts, specials, coupons, gift certificates, and/or special Management issued certificates, etc. are sometimes non-refundable. Call for details!!
(There are 2 King and 1 Queen beds, they sleep 1 to 6, people ask!*)