Bed and Breakfast Near Denver,
 Morrison Colorado Hotel
CORONAVIRUS UPDATE
During these uncertain times, Arrowhead is taking extra precautions to make sure our customers and staff are kept safe.  To insure this we have increased our already high cleaning standards.  The rooms are sterilized in between each guest including all hard surfaces.  Things touched like door handles, faucets, remote control, phone, etc. are all sterilized.  After the room is cleaned, all soft surfaces are also sterilized including carpeting and drapes.  Please read below about some of our changes.
Check in and check out:  Guests will be checking themselves in and out to minimize contact.  You will be sent detailed email instructions.  There are no keys (all electronic locks) so this process is very easy.
Breakfast:  We are not currently serving breakfast to keep everyone safe.  We will update as things change.  
Housekeeping:  Staying multiple nights?  We will not be performing the normal room housekeeping.  We will call each morning (or you can call us) and we will replace towels, replace coffee supplies and take away trash.  You just leave the old towels and trash outside your door and we will replace with new.  
Masks:  Please, when walking around the house in the common areas, wear a mask.  
We strive to practice social distancing and hope you do the same.  Be safe.  
Bed and Breakfast near Denver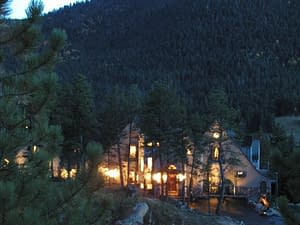 The Arrowhead Manor, a bed and breakfast near Denver,  Morrison Colorado hotel,  has served the greater Denver area for the past 15 years.  So if you are looking for a Morrison hotel, whether you are looking for a romantic getaway, searching for a perfect setting for your proposal, going to a show at Red Rocks, or just wanting a night away from the kids, we are the place to stay!   Therefore, why not celebrate you anniversary or honeymoon here?  The Arrowhead Manor is the place to be. Only 20 minutes from Denver, we are the closest mountain accommodations, and also the most romantic and unique. Looking for a 420 friendly property?  You won't find a more beautiful one!  Take a look at  our  rooms!
Red Rocks Concerts
Going to a Red Rocks concert and looking for a bed and breakfast near Denver,  Morrison Colorado hotel?   There are only two in Morrison.  The Arrowhead Manor and one other property.  Undeniably, Arrowhead is the place to stay!  We are one of the top Bed and Breakfasts near Denver, and we offer many great amenities that are unique to the bed and breakfast industry. Secondly, check out our Why We're Better page!  And you should see the views, certainly some of the best views in all of Colorado, yet we're the closest mountain facility to Denver and we're near Red Rocks!  Thirdly, don't want to drink and drive?  Check out our Red Rocks shuttle option.
Denver's premier bud and breakfast. Smoke here legally, safely and in luxury.  Enjoy the mountain views, sit back and relax.  Oh, by the way, we have a company that can deliver all your 420 needs right to our parking lot 24 hours a day.
Coronavirus Clean!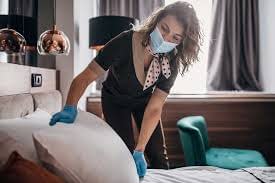 Coronavirus clean!  We have stepped up our cleaning procedures!  All guest rooms are sterilized by sanitizing hard touch surfaces like door handles, remotes, light switches, toilet flush, faucets, etc..  We also went to the 3 sheet system to insure all linens are sterilized each stay.  We are not serving breakfast at this time to keep things safe.  Also, our staff is always safe wearing masks and gloves when cleaning your room.  Feel at home at Arrowhead!

Luxury Hybrid Beds

1000's of feet of private and semi-private decks   

Private stone luxury bathrooms

Private hot tubs

Jacuzzi Tubs

Paya bath amenities

Flat screen tvs (32″-55″), cd/dvd players

Electric/gas fireplace

Free dvd movie library

Mini-fridge

coffee maker (with Community Coffee!  Dark, rich and super smooth.  Better than Starbucks!)

Individual ac/heat

Private phone line & voicemail

Wi-Fi (although we have the best internet available in our area, it is limited)
Email: Contact us here OR for Faster Service Call: 303-738-8454 
OR for the very fastest service feel free to Book Now &/or Check Availability Online!!
Stay at the nicest bed and breakfast near Denver, Morrison Colorado hotel.  Book today!

Note:  Most people are coming to Arrowhead to get away from children.  Arrowhead can allow children in certain rooms with prior authorization.  Please ask for details.